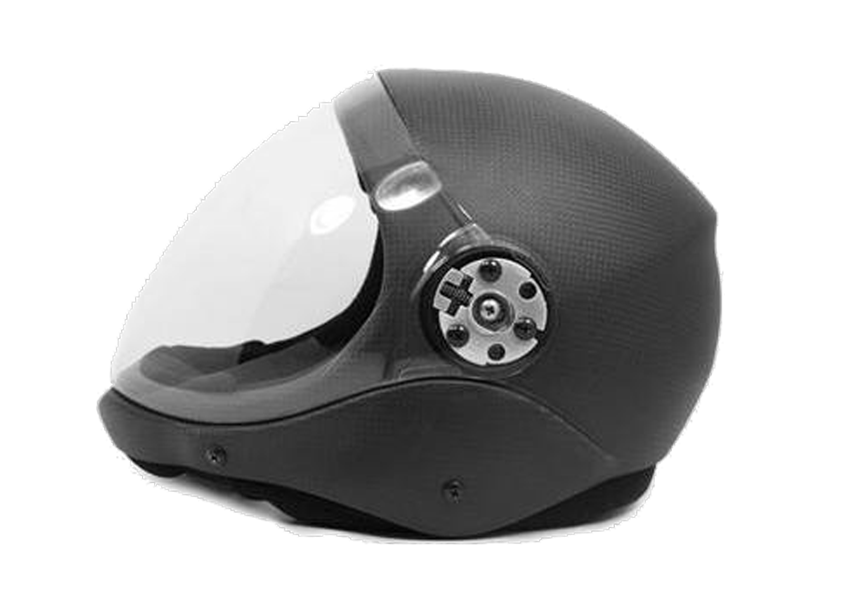 Features making the AERO full face helmet the top of the line of skydiving head gear include:
High-end vacuum molded carbon fiber composite shell (not plastic)!

2mm molded polycarbonate lens, also available in tinted gray

Scratch resistant and anti-fog lens

Removable and washable liner

Widest field of vision on the market today

Perfect for instructors

Compatible with eye glasses

Easy to cut away - comes standard with a cutaway
​
Colored helmets are all shipped with a solid paint scheme.
Sizes:
X-Small - 21.25" - 21.75" Large - 22.75" - 23.25"
Small - 21.75" - 22.25" X Large - 23.25" - 23.75"
Medium - 22.25" - 22.75" XX-Large - 23.75" - 24.00"
​
GoPro cameras can be top mounted using any of our mounts. Order a camera mount with your helmet and we'll install it for you free of charge! The AERO makes flying with cameras safe due to its ingeniously simple quick release cutaway.
Bonehead's Cordura Helmet and Accessory Bag
has an ample amount of space for a Bonehead full-faced helmet and a Bonehead open-faced helmet in the large pocket, which is also spacious enough to hold a Flat Top.
​
Or use it as a tunnel bag. It's the perfect size for a helmet and free fly suit to make trips to the tunnel smoother.
The large pocket measures 21″ L x 14″ H x 10″ W. The small pocket measures 10″ L x 7″ H x 2″ W.
The Aero sheild comes in Clear, Smoke and Dark.
Introducing the Go Pro Swivel mount for Rev2 and Aero Full Face helmets!!
The Bonehead Go Pro swivel mount was designed for the GoPro 4 and full face helmets or to be top mounted on a curved surface.
The mounted camera rotates 65 degrees to give you the desired camera angle at all times. Manufactured and designed in-house by Bonehead Composites, the mount measures 3 1/4″ long, 1 1/8″ deep and 1 1/8″ high and is easy to install by drilling two small holes on the helmet. This mount is made to reduce the possibility of lines entangling with your camera.